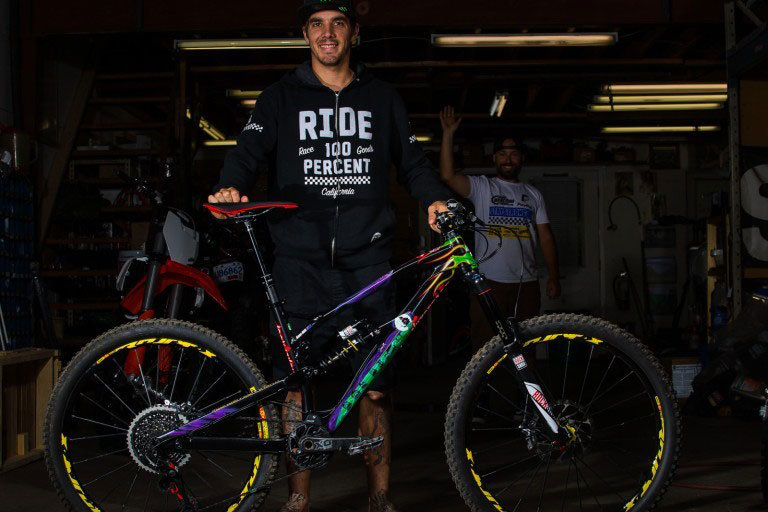 Nukeproof Mega. Inspired by his sons; Bam and his love for Grave Digger. Sam will be racing this at the Enduro World Series, Whistler Mountain Bike Park Crankworx. Massive thank you to Johnny at Refurbmybike for the hand-painted artwork.

Vintage Western Gold whiskey, Sam's "Apple Jacks" cocktail and the stunning views of Dolceaqua, Italy were the backdrops for this project's gestation.
After a day riding some of Italy's finest trails, Sam was explaining how his eldest son had found a new obsession- Grave Digger. Grave Digger is the world-famous Monster truck conceived in 1982 by Dennis Anderson.
Bam, following in his dad's love for all things Green and Purple (If you look at Sam's Leatt helmet earlier this year it was custom painted in black, green and purple.), had discovered the truck and was quickly obsessed with it and his model of Grave Digger. Sam had recently taken Bam to meet the real-life truck at a Monster Truck meet in his native city of Perth.
With Sam killing it in his last two Enduro World Series Rounds (Wicklow and La Thuile), alongside his downhill day job, we thought it was appropriate to do something a little special as a surprise present. Here is the photo story caught by Fraser Britton.
The finished article and one happy owner, complimented with the latest Sram Eagle, Rockshox's Lyrics, Mavic Crossmax wheels, MRP Chainguide and Nukeproof finest finishing kit- including his signature Horizon Pedals.     
Thanks to Elite Refinish, Belfast, for turning this project around in a short timescale. With over 60 hours of steady-handed airbrushing detail in the frame, we think it's something special.
You may also like: