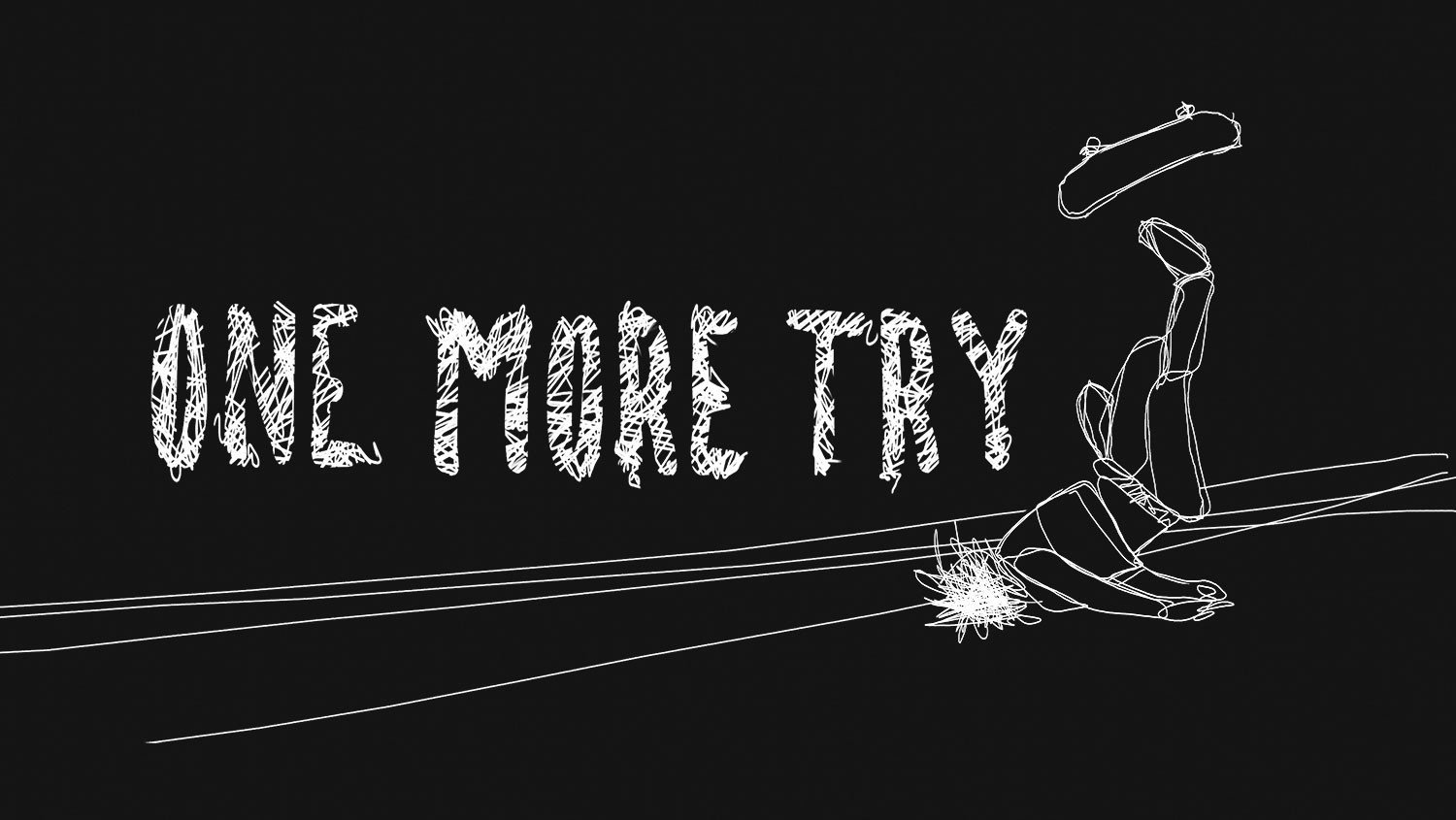 ONE MORE TRY is one of a kind skateboarding event which will be taking place for the first time on 01 October in Skopje. From a source close to the organizers we found out some more details about it.
They say it's a work in progress type of contest, things can and will escalate anytime and lots of surprises are in store. Manuals can turn into a 6 stair handrail jam, spots may vary according to mood and prize conditions may change to what we can now only imagine.  What it sounds like, they will be going with the flow to anywhere it may lead.
One of the more important things can be smelled from the names we see involved in the Program Outline. This is a rare occasion when all the players on the Macedonian skateboard scene come together to do something for the scene putting aside individual differences. It's a good sign and a positive message to the local skateboarders.
Rumors are that cash for tricks prizes will top up to somewhere around 20,000 MKD, and there will be decks, wheels, shoes, clothing and nobody knows what else on top of that! Oh yes, and beer!
The high level of energy will be kept up by the one and only DJ GOCE in accordance with Red Bull Macedonia.
Media got covered by Reborn and S.K.I.R.O.L.
Master of ceremony the legend himself: Marko Noveski
In the name of the broken bone, the torn knee ligament and the twisted ankle, ALL SKATEBOARDERS WELCOME! 
When: Sunday, 01 October 2017
Where: Skopje
Program Outline:
11:00 – 14:00 – MNT (Mother Theresa Square – https://goo.gl/maps/G3Vm8CadDRF2)
– Grind House Manual Combos
– Error of Harmony Wallrides & No Complies
– Popcorn Skate Co. Best Line
14:00 – 15:00 – Pilgrimage through the streets from MNT to KEJ with surprise pop-ups on route – Cash for Tricks by DropIN, XMKD.com & Smart Living
15:00 – 19:00 – KEJ (Stone Bridge – https://goo.gl/maps/SUQUtqcC9Y32)
– S.A.M. Longest Ollie
– S.K.I.R.O.L Powerslides & Hippiejumps
– Friction Kicker to Barrel Jump
13:00 – 01:00 [0.10]error of harmony Pop Up Shop and video promotion @ Acantus gallery (next to Jukebox caffe)
(https://goo.gl/maps/KiQdd2k5Tqu)
21:00 – 02:00 – After-Party – GOCE (https://goo.gl/maps/r7u6LjZi6rq)
PLEASE STAY UPDATED ON THE FACEBOOK EVENT FOR PROGRAM CHANGES!