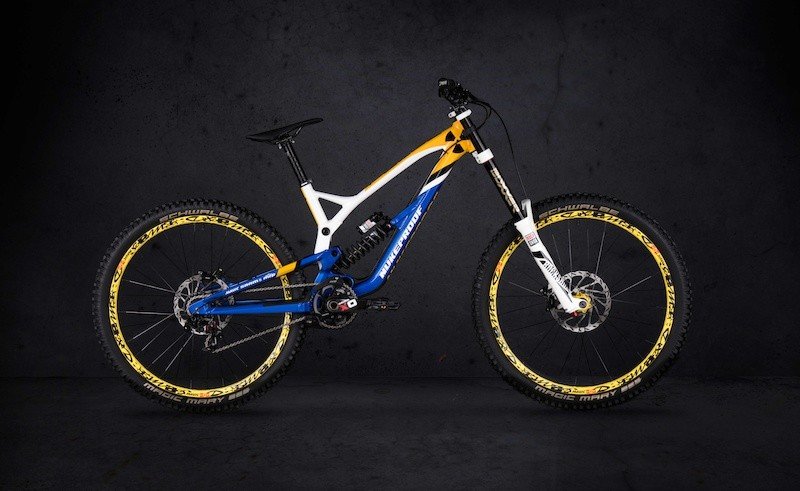 The new vessel that the 2016 Chain Reaction Paypal Team will be riding for the UCI World Cup Season. 2016 see's an unchanged team of Sam Hill, Michael Jones, Joe Smith, and Elliot Heap.
With January and February a washout in the UK, The Nukeproof Factory backed Chain Reaction Cycles- Paypal team set off for a bit of fair weather testing in Sunny Spain. We hooked up with the local legend and Ride Malaga owner Salva Moreno (who is also the team videographer) to guide us around the region's DH trails, Tapas bars, and moto spots.
Moving into the second year on the 2016 Pulse, the riders had some solid base settings, but the relaxed test environment allowed freedom to test beyond the constraints of hectic race weekends. Needless to say, speed was found, fun was had and Mike tried a jalapeno pepper. (He's not one for hot food that Welsh man)
Team Manager Nigel Page:
"All the riders are fit, strong and focussed after a good off-season of training and we are looking forward to the race season where we will try and achieve our racing goals and have a great summer riding and racing bikes to do our sponsors proud."
Now in his second year as a Junior.
Elliot Heap

will be out to prove he is one of the quickest juniors in the world. With constant performances in the British enduro and downhill series, Elliot will be looking to take this form to the World Stage.

Fresh from a winter training in Australia with Sam, Mike Jones is one to watch. A brilliant 3rd place at Lourdes last year and an incredible 4th place at the World Championships in Vallnord will give Mike a great motivation to improve for this 2016 race season.
Joe Smith had a solid year in 2015 taking numerous BDS wins, the overall series title and a 2nd at Red Bull Hardline. A great offseason should see him mix it up with the world's elite in Lourdes.
This will be the 2nd year of racing for most of the team on the brand new 2016 Nukeproof Pulse frame. With the frame developed along with feedback from the team, they will all be racing on production frames. With a special paint scheme inspired by Nigel Page and a fascination with his latest Husquavarna enduro bike which has seen plenty of racing over the winter.
You may also like: