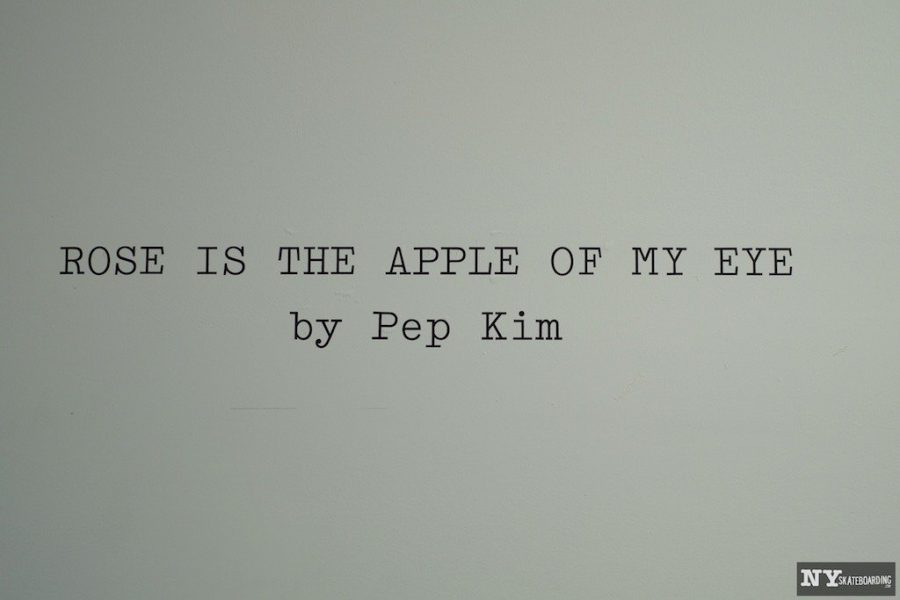 Rose is the Apple of My Eye represents the magic of skateboarding isn't going further or faster or even higher.
These are the physical feats that the mind automatically gravitates towards when learning a new skill, the rose is the apple of my eye. Above all, fluidity is skateboarding's power and allure, therefore the ability to physically interact with your environment in completely new ways and adapt to anything. Every time you step on a skateboard, no matter what your age, race, sex, or even physical capabilities are, you have a unique opportunity to do something that's never been done before.
If you embrace that side of skateboarding. New York City is one of the most expansive palettes to create on, despite Manhattan being less than 23 square miles.
For Aaron Herrington, it wasn't his home state of Oregon or California—skateboarding's de facto capital—where he became a professional skateboarder, but it was in the Five Boroughs of New York, where he found himself while nursing a serious injury. That unspoken power, hidden on every block how NYC became the apple of his eye.
At only 26-years-old, Herrington's body of work has already proved that you don't have to be from the East Coast to be an East Coast Skateboarder, just as you don't have to be born in NYC, to be a New Yorker.
And most importantly, in a city that's constantly changing, there are infinite opportunities to do something new, every time you leave your doorstep.
Have you seen his Static IV part or his skating in Pontus Alv's most recent skate film, I like it here inside my mind, please don't wake me this time? You will immediately understand Herrington's skateboarding. It taps into the spontaneous freedom that's made Video Days such a beloved moment in skateboarding. In addition to being a continuation of the street discipline, captured by Dan Wolfe in Eastern Exposure 3: Underachievers. It's anywhere, anytime, anyhow, and once you embrace that ever-evolving mindset, you can adapt that credo wherever skateboarding takes you.
For Herrington, 2015 took him across the world, for the Converse CONS "One Star World Tour".
However, it's the way he taps into New York City's energy that best displays his power, finesse, and boundless energy. If you're steeped in East Coast skateboarding, you want to see Ricky Oyola crush the streets of Philadelphia and Bobby Worrest expanding on the history of marble and granite Pulaski in DC. Similarily Freddy Gall ripping crusty spots in New Jersey, as much as Herrington is an extension of that family tree, most firmly rooted in New York.
For some skaters, it takes a while to form who they are. Years are spent building up a foundation before their personality truly shines through.
Your limbs need to fully extend, muscles need to rip and reform stronger, and an eye for spots needs to be gained. In many ways, Herrington's skateboarding is freakishly mature, without attempting to be so. There's a natural flow to his skating, that, like his personality is never forced. There's no pretension, just the pure love of riding a skateboard and sharing that commonality with anyone down for the cause. And yes, part of that cause is donuts, because, again, shit just isn't that serious and it shouldn't be.
Herrington, along with an entire generation of skateboarders, is part of a shift in the documentation of skating, where everyone with a board and a camera can shape what's seen on their social media accounts.
For decades, even the most photographed pros were only depicted in what?  20… 25 photographs a year? That's a sliver of coverage compared to the real-time, therefore always-on documentation of today. Part of the soul of "Rose Is the Apple of My Eye", is stepping back into the essence and preciousness of a filmer and skater, working to create a body of work together—one of purpose and intent, standing as art, not content in the digital world.
This is Aaron Herrington framed through photographer Pep Kim's eye.
Like Herrington, Kim's not from New York, although something about East Coast skateboarding—the mindset, the lifestyle, the weather, and the purity—infected him six years ago, ever since leaving his home in Korea. It's more than photographing a trick, it's the relationship between the skater, the obstacle, and the one documenting it. Becoming a symbiotic trinity, all parts equal, creating the whole. This is how I want to see skateboarding and this is how I want to see New York, cracks, scars, flaws, and all because those imperfections equal perfection that's best captured and appreciated, rather than explained.
By Anthony Pappalardo