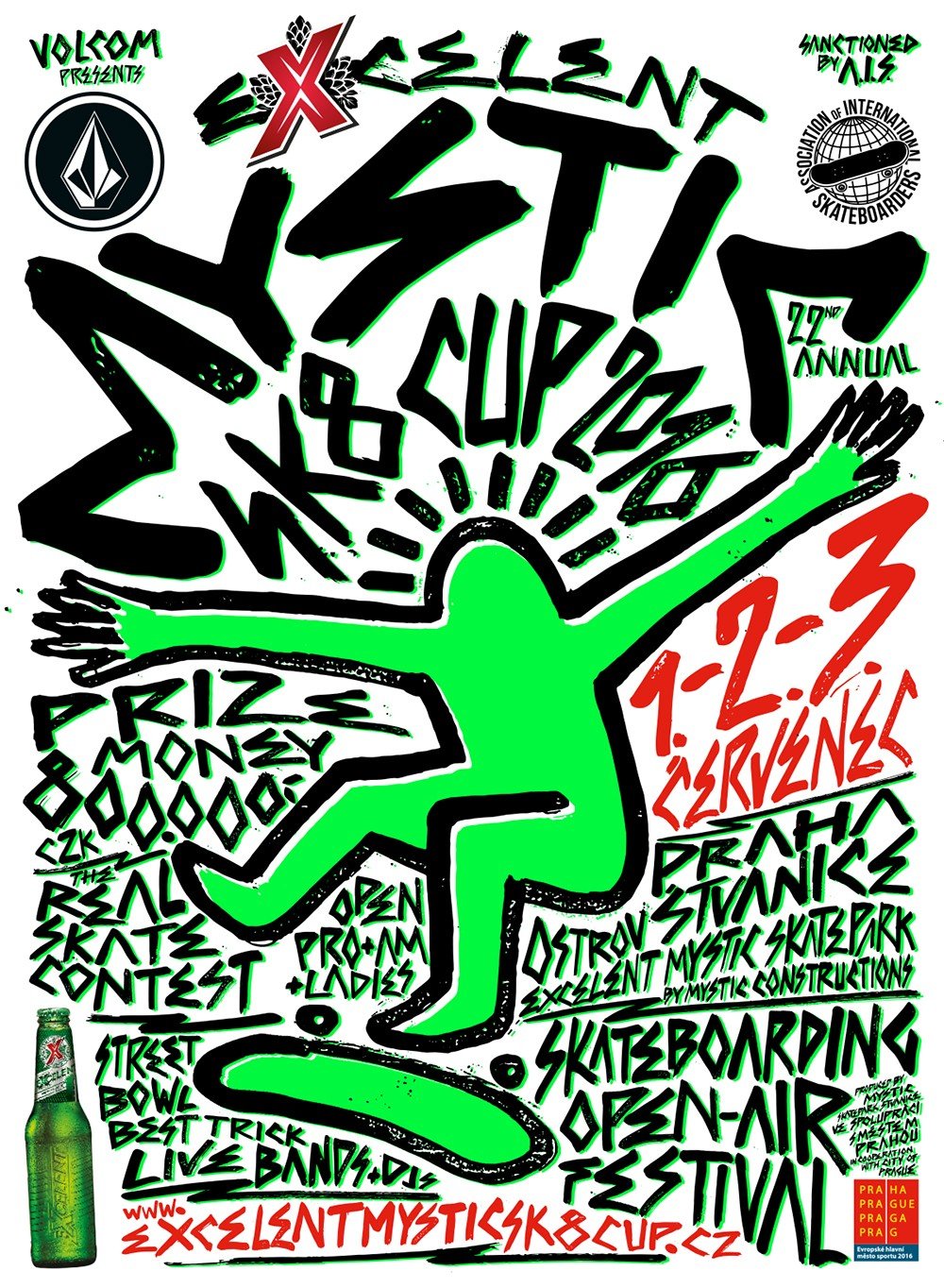 Excelent Mystic Sk8 Cup 2016, the biggest sport and music open air festival in the centre of Prague, will celebrate its 22nd birthday this year.
The international skateboarding contest will take place 1st – 3rd July in Mystic skatepark on Stvanice island. Top skaters from all over the world will compete with top local names in street style, bowl and best trick contests. Winners will split up prize money which was this year raised to 33.000 US dollars. Live concerts and DJs will perform on the main stage on all 3 evenings. The Subways (UK), Walls of Jericho (USA) and top Czech hip-hop talent will perform, amongst others.

About 150 professional skateboarders from around 25 countries will compete Friday to Sunday in street style, bowl and best trick contests. Ladies will compete in street style. On Friday, the event will kick off with a street style pre-qualification for European riders. On Saturday, street qualifiers will take place with top 29 advancing to the semi-finals on Sunday. Last year's winner Max will advance directly into the finals. Bowl qualifiers will also take place on Saturday. Finals of both contests will take place on Sunday afternoon. The contest will culminate in the best trick contest, where riders will choose one obstacle on which they will attempt the most challenging tricks. Prize giving ceremony will start after 8pm. The contest will be sanctioned by the Association of International Skateboarders, which will supply judges and process contest results.
Our Relax Zone will be located on the traditional spot, a grassy area with trees between the skatepark and Vltava river bank. There, visitors will find the Excelent Sound Stage with top quality sound system, which will host British formation The Subways on Friday and on Saturday the sound will get harder with American hardcore delivered by Walls of Jericho and Norma Jean. On Sunday after the contest, the visitors will see a unique rap ensemble DJ VEC + Midi + Hafner + Zverina + Vladimir 518. After 10pm, the show will move to the DJ stage for the night. Belgian project Tat2 Noise Art will perform and tattoo during the day around its tour bus parked in the Relax Zone. Apart from music, the visitors will be able to try dexterity of their fingers in fingerboarding, slide on a skimboard or just lie in the grass and watch live broadcast of the contest on the giant screen. Restaurants, food stalls, refreshment stands and bars will complement the festival atmosphere. Skate shops selling supplies and clothing will also be on site as expected.
The contest will be broadcast live on Saturday and Sunday on www.prima-cool.cz with a commentary specific to the broadcast, which will provide details about riders and their tricks to contest viewers around the world.
For more information go to: http://www.excelentmysticsk8cup.cz
Facebook: http://www.facebook.com/excelentmysticsk8cup
Advance Tickets https://goout.cz/cs/listky/excelent-mystic-sk8-cup-2016/jsl/
You may also like: