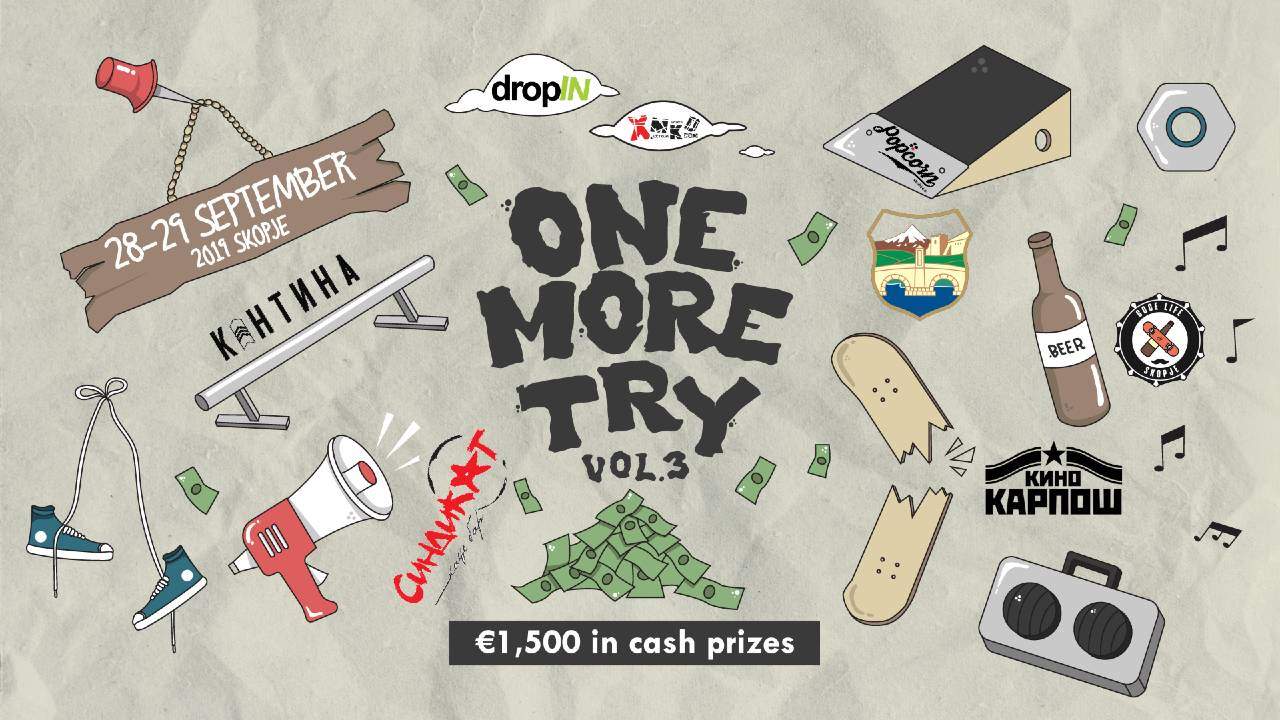 During the last weekend of September, Skopje will be host of the 3rd Annual Street Skateboarding competition called ONE MORE TRY.
The Annual Skateboarding Competition ONE MORE TRY Vol.3 will take place on several locations around the city and is open to skaters of all ages who will compete for 1,500 euros in cash prizes on various tasks. According to the organizers, contest atmosphere will be taken care of with music, beers and awesome tricks.
Starting Saturday skaters will compete on two locations. The first location is Kej, under the Stone Bridge, with a classic Cash for Tricks. The money awarded will depend on the complexity, style and execution of the trick. The harder the trick, the higher the return. The contest will then continue on the newly opened Pump Track near the Olympic Pool, where a race will take place with prizes awarded to the fastest at the end.
Whoever survives the first day will continue on Sunday with a demo session of a few mini games which will take place at the Sports playground at the former Partizan Sports Hall in the City Papk. Afterwards there will be small warming up competition organised by a group of skaters called @GoceLife at the Goce Delcev monument plateau in the City Park.
The contest will culminate with yet another Cash for Tricks contest in which the riders will skate a surprise obstacle on which they will attempt the most challenging tricks. Naturally everyone is invited to hang out and watch the competition.
Check out previous years action on the ONE MORE TRY Skopje website: https://onemoretryskopje.com/
Program is avaliable on the Facebook Event.
Get ready for an unforgettable skate weekend in Skopje!